Child-Centered Learning For Two- and Three-Year-Olds
Our Young Foxhounds Program focuses on the important early childhood foundations for learning: socialization skills, confidence, and curiosity.
Young Foxhounds Program Highlights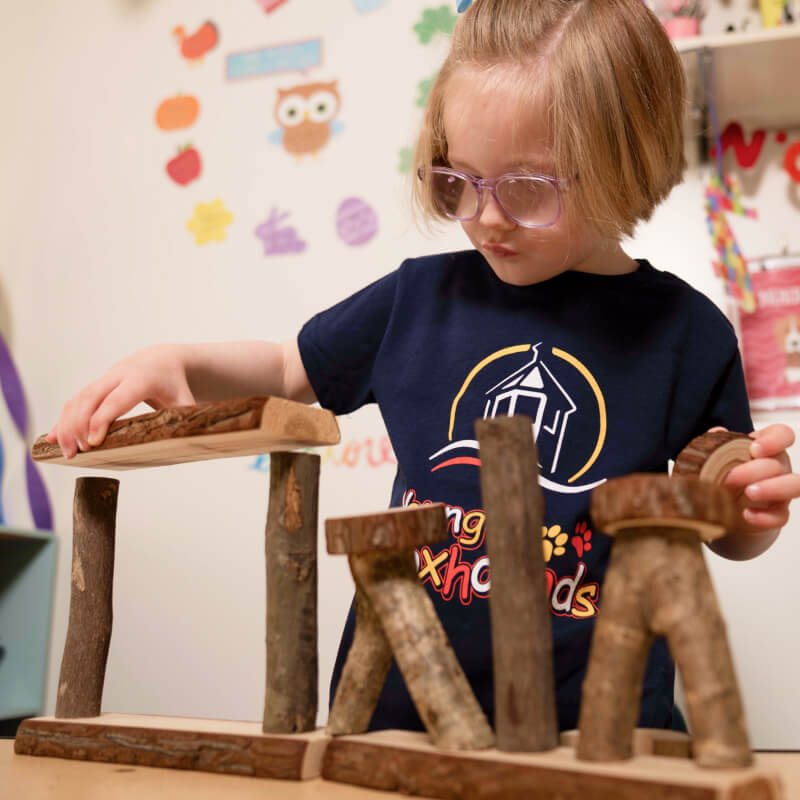 Play-Based Learning
Reggio Emilia-inspired curriculum offers an imaginative approach to learning that engages all five senses.
Time For Self-Expression
Students explore through theme-oriented lessons that infuse music and art into foundational learning.
Essential Preparation
The Young Foxhounds Program uses child-focused learning to prepare students for PreK at St. James Academy.
Our youngest students embark on their educational journey with an exploratory approach to learning.
What to Expect
Play-based lessons that make every school day fun
Social and emotional development with a focus on respect and kindness
Daily opportunities for practicing imagination and self-expression through independent play, music, and art
Sensory activities that encourage students to observe and engage with the world around them while teaching confidence and refining fine motor skills
Continuous learning through movement on the playground and during outdoor lessons
Opportunities to practice listening and engaging in conversations with teachers and other students
Half Day, Full Day, and Aftercare enrollment options
Young Foxhounds Annual Tuition
SEPTEMBER—JUNE
Half Day (7:30 – 12:00)
3 Half Days
5 Half Days
$5,095
$7,840
Full Day (7:30 – 3:30)
2 Days
3 Days
5 Days
$6,030
$8,780
$13,510
Aftercare (3:30 – 6:00)
2 Days
3 Days
5 Days
$135 Monthly
$190 Monthly
$265 Monthly
Discover A Place To Grow
89-Acre Campus
Students engage in outdoor learning where they investigate the world around them.
Small Classes
At SJA, every child has the space to actively participate in their education in a joyful and fun environment.
Caring Teachers
Our professionally trained staff partners with parents to ensure every child feels secure and cherished at school.
Young Foxhounds Inquiry Form
St. James Academy does not discriminate on the basis of race, color, religion, sexual orientation, national origin, or ethnic origin in the administration of education policies, admission policies, scholarship and flexible tuition programs, and athletic and other school-administered programs.